Black History Month @ SJCS
February 22, 2021
At San Jose Christian School, we celebrate God's creation and seek to develop Engaged Citizens who follow Christ by seeking to create peace and rectify injustice. This is one of our Throughlines of Authentic Christian Education at SJCS which is embedded into our curriculum.
What it means to develop Engaged Citizens:
Love justice and mercy while seeking peace
Honor diversity, respect others, and recognize their right to hold different ideas and beliefs
Demonstrate godly leadership qualities
Live as active and responsible citizens
Identify and rectify injustices in order to restore dignity
Act fairly, heal brokenness, and bring joy
Keep informed and understand what's happening in the world and other cultures
As followers of Christ, we are called to love all of those around us. Jesus Christ said it best in Mark 12:30-31,
"Love the Lord your God with all your heart and with all your soul and with all your mind and with all your strength. The second is this: 'Love your neighbor as yourself.' There is no commandment greater than these."

Mr. Hucks, Head of School said in his Community Update over the Martin Luther King Jr. holiday, "The Christian community should always set the example because we have the best example to follow, Christ."
Below is a snapshot of a few of the activities and lessons on campus at SJCS to honor Black History Month and celebrate God's people. We encourage you to speak with your students about the various lessons they learned and how they can be Engaged Citizens as a result.
Preschool

Our youngest Tiger cubs in preschool learned about various people such as George Washington Carver, Jackie Robinson and Mae Jemison. They read the book "It's OK to be Different" which celebrates multiculturism and promotes character growth. They also participated in fun activites such as:
Egg Diversity
Show the children two different eggs and discussed what they see and how God made everyone different on the outside. Once everyone had a chance to talk about it, teachers would crack it open to demonstrate how we're all similar on the inside.

Many Colors of M&M's
This activity took place during circle time where every child received a pack of M&Ms. Similar to the Egg Diversity, the students were able to see the differences externally, but the similarities on the inside. This activity was also great because it fostered sorting and counting these tasty treats.

1st Grade | Ms Lyons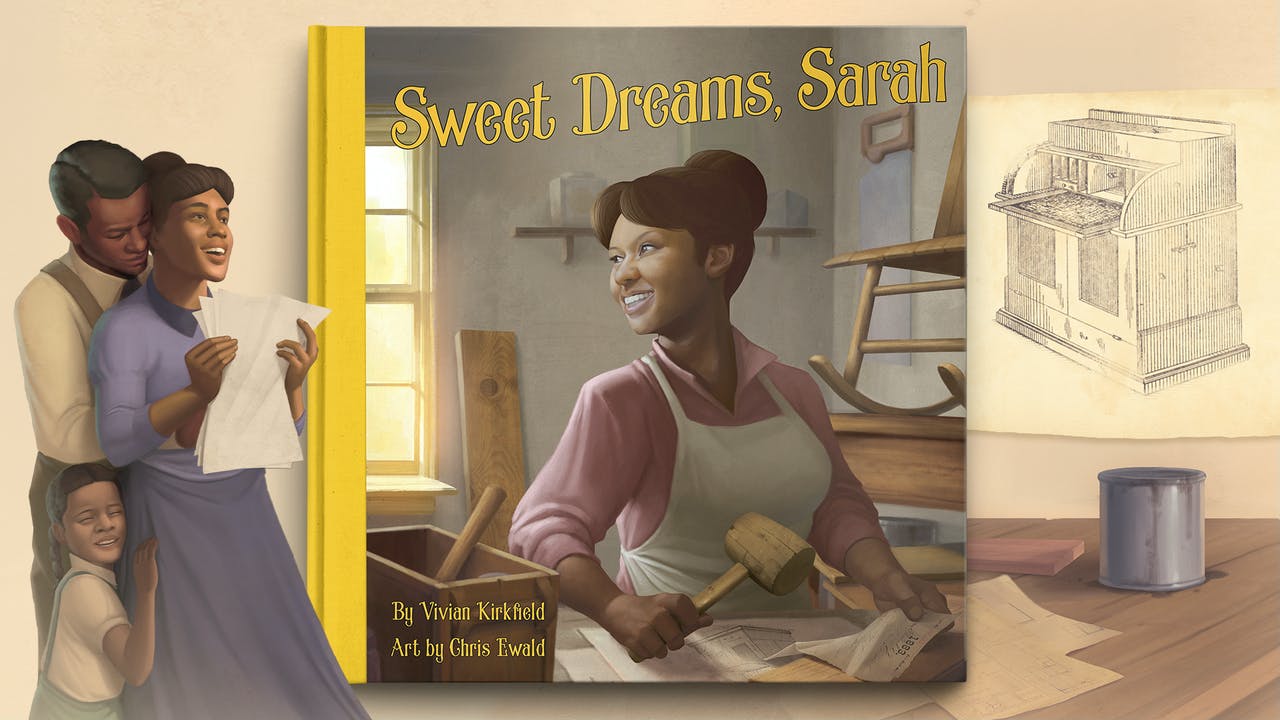 First graders watched/listened to "Sweet Dreams Sarah" on Vooks.
This is a beautiful story about a woman, named Sarah E. Goode, going from slavery to freedom, and fulfilling her life goals (married, children, having a job she loved). Her story was very inspirational as she was one of the first African-American women to receive a patent. The 1st grade class was inspired to take some time after hearing her story to invent things they thought the world could use as well.
3rd Grade | MS Basl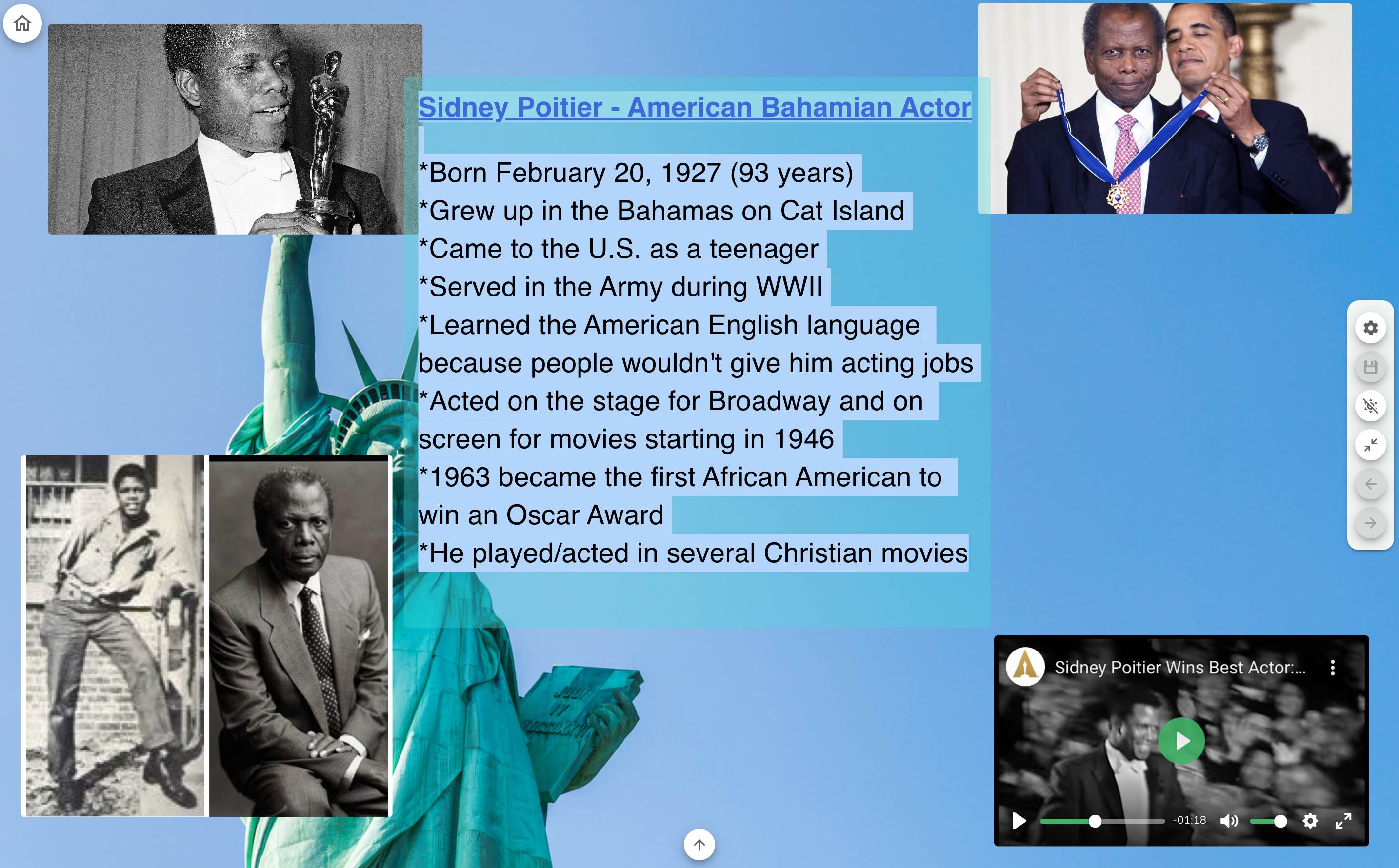 Our 3rd graders have learned about and discussed several accomplished African American's over the past few weeks such as Jackie Robinson, Etta James, Sidney Poitier, and Harriet Tubman. Daily lessons would include a discussion and an informational (like the one above for Sidney Poitier). The students are excited each day to learn about these historical icons who have impacted and contributed to our country. I emphasize the importance of God's biblical truth and how we are called, as God's children, to treat one another with love, grace, mercy, and respect.
3rd Grade | Ms Veurink
Students in Ms. Veurink's 3rd grade class read Teammates: How Two Men Changed the Face of Baseball. This is the story of Jackie Robinson becoming the first black baseball player and the friendship between Jackie Robinson and his teammate Pee Wee Reese. Students learned about the difficulties Jackie faced with bravery and integrity. Students also learned how Pee Wee Reese stood up for his teammate. Students made connections to self and to current world events through the reading of this book. One assignment was to write a letter to Pee Wee Reese as Jackie Robinson (pictured above is one sample letter).
4th Grade | Ms Negrette
Each morning our 4th graders do a "random photo of the day" for our morning meeting on slideshow. Through the month of February, we have been focusing on a different Black person each day: learning about them, reading a quote, and sharing in discussion. The kids LOVE it!
8th Grade | Mr Hennes
As we begin our unit on the Civil War, we are taking the time to understand what the culture was like in both the North and the South, and how the issue of slavery was dividing the nation. We confronted the painful reality that many who endorsed slavery were also Bible-reading Christians. We discussed the evils of the Trans-Atlantic Chattel Slavery system and how it differed from slaves and bondservants during Bible times. We are continuing our discussion this week by analyzing some of the lasting effects of slavery on a people group, and on our nation. We will also look at some of the organizations and individuals that rose up to confront this evil, and consider how we can continue to stand for justice for the oppressed in our current context.
---