Show what you know, so we can help you grow
May 22, 2023
The mission of San Jose Christian School is to advance the kingdom of God through exceptional teaching fully integrated with Biblical perspective. Within our Christian community, we seek to engage and transform culture for Jesus Christ.
---
SJCS administers a student-adaptive standardized test to Grades 2 - 8 called NWEA MAP Growth. The NWEA MAP website opens, "See their needs. Close the gaps. Help them grow." This aligns with our SJCS approach where we aim to support each unique learner. SJCS students take fall and spring tests in the areas of math, reading, and language to inform teachers of student needs, support differentiation, and measure growth.
Spring MAP testing results are in! Let's take a look at the results to celebrate some of the ways our team used MAP testing to see student needs, close gaps, and help our students grow.
---
Spring 2023 Testing Results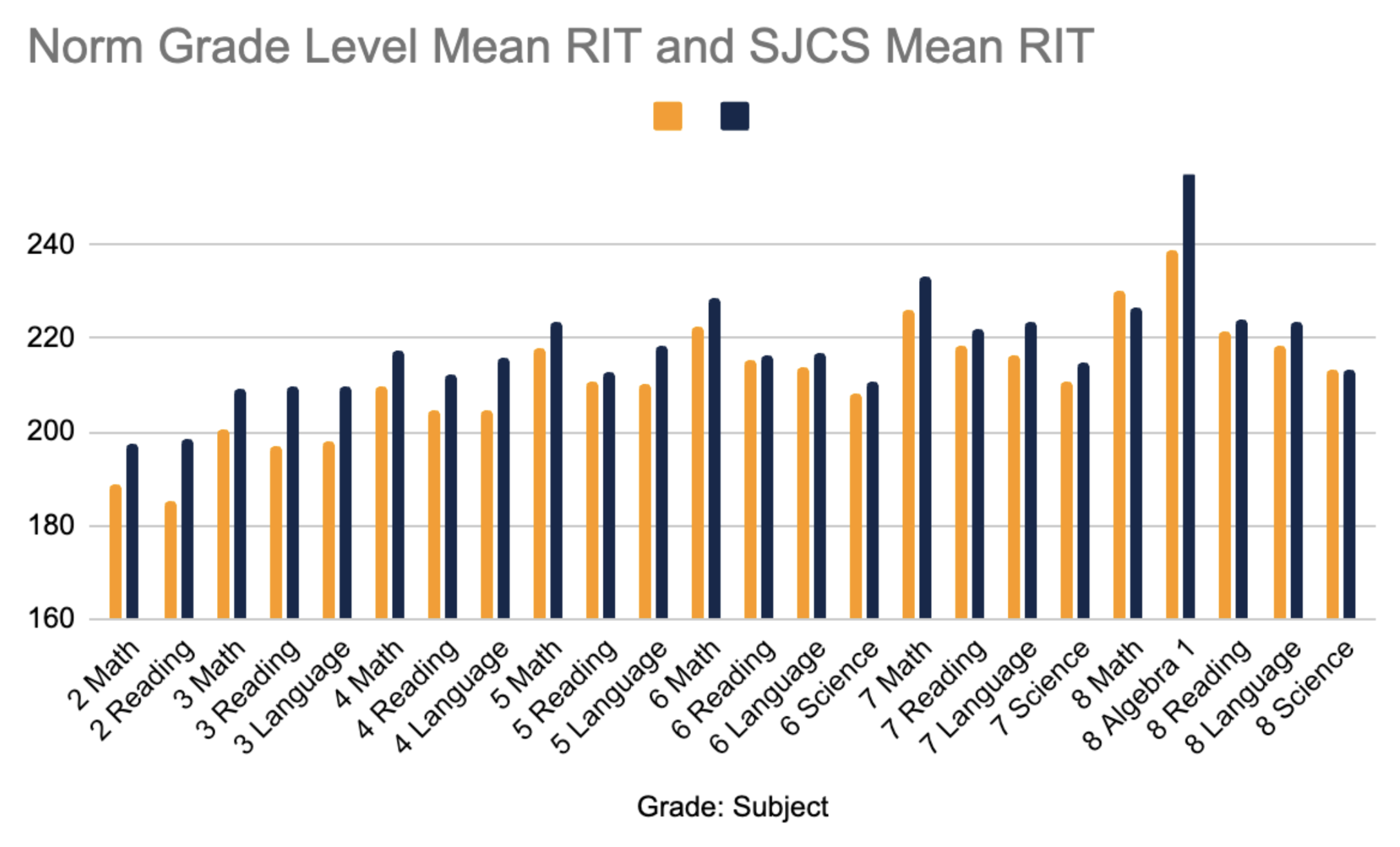 Orange = Norm grade level mean RIT
Navy = SJCS grade level mean
---
Mathematics
Two years ago COVID interrupted student learning worldwide. For schools across the U.S., math education during and post-COVID was especially challenging. Because MAP testing results give specific data about student and class achievement in specific areas (ex. operational and algebraic thinking, number and operations, geometry, statistics), SJCS teachers can target learning gaps, what students are ready to learn next, and which areas need particular focus during instruction and assessment.
SJCS responded to math learning gaps post-COVID by adding a math push-in teacher to support students on the above- and below-level spectrum for Grades 4 and 5 math. Additionally, math teachers met monthly during the 21-22 school year to collaborate and unite in meeting the challenges of students with diverse math needs.
Spring 2023 MAP results show that our math class averages grew 3 - 16 RIT points from September to March, with most math classes ranking higher than grade level and California private school norms.
K - 2 Language Arts
San Jose Christian follows a curriculum review cycle to ensure quality curriculum which meets and exceeds standards. In our most recent language arts curriculum review, elementary teachers and the Education Committee chose SuperKids for JK-2.
MAP results confirm the excellence of the SuperKids program which covers reading comprehension, phonics, writing, spelling, and penmanship. According to the fall MAP reading scores, Grade 2 started the 22-23 school year five RIT points higher than the California private school average. The spring MAP results show that the class average grew nine RIT points since September, keeping the class average well above California private school norms.
3 - 8 Language Arts
The language MAP test comprises three categories: writing (plan, organize, develop, revise, research), grammar (edit, understand, use), and mechanics (edit, understand). SJCS uses Easy Grammar, Daily Grammar, and Step Up to Writing to teach these language skills. The elementary classes who take this particular test grew 5 - 9 RIT points during the course of this year, continuing their history of exceeding grade level and private school norms.
In middle school these skills are integrated into the daily language arts curriculum as well as taught specifically in a weekly grammar class. Past MAP results for each unique learner were used in the Grade 7 class to pilot differentiated instruction. Additionally, Greek and Latin vocabulary were added to the grammar curriculum.
This responsive teaching resulted in 88% of Grade 7 students scoring at or above grade level on the spring language MAP test, an increase of five RIT points which placed the class average above California private school norms.
Alumni Reflections
Recent conversations with SJCS alumni and comments on the 2023 alumni survey affirm that SJCS is living out its mission.
"San Jose Christian's preparation for academic excellence helped me become my high school's valedictorian," one alumnus wrote.
Another praised, "My time at SJCS has given me academic confidence going into high school thanks to amazing teachers who are strong, Godly leaders. The solid, clear, and efficient teaching at SJCS has been a great foundation for my education."
Current high school students share that "SJCS fully succeeded in preparing me for every aspect of high school" and that "I felt very confident coming into [high school] math after attending SJCS."
As SJCS continues to move forward in its mission, we are committed to meaningful faith integration, excellent curriculum, effective teaching, and Christ-centered community. May God be praised as we offer our school, our community, and our work to God's glory.