Connecting the SJCS Mission with 2022 MAP Growth Results
May 26, 2022
The mission of San Jose Christian School is to advance the kingdom of God through exceptional teaching and curriculum fully integrated with Biblical perspective. Within our Christian community we seek to engage and transform culture for Jesus Christ.
The SJCS mission may seem unrelated to MAP testing, but perhaps I will open your imagination to how MAP testing and our mission intersect. For the past three years, SJCS Grades 2 - 8 students have taken MAP Growth tests in math, reading, and grammar in both the fall and spring. In all three years of offering NWEA MAP standardized testing at SJCS, class RIT averages in all grades and tests scored higher than the norm grade level mean RIT. (Click here or thumbnail below for Spring 2022 results)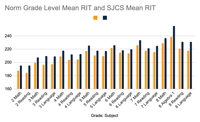 Thanks to new data available from MAP Growth, we also know that SJCS students currently score equal to or higher than California Private Schools in ALL GRADES and SUBJECTS. This is an incredible achievement! (Click her or thumbnail below for table with CA Private school comparisons)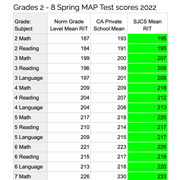 Small class sizes, commitment to excellence, credentialed teachers, engaging learning environment, commitment to 21st century learning, and faith-integrated lessons at SJCS all support these excellent scores. In the long term view, these excellent scores are part of impacting the world for Jesus Christ. Imagine the impact our students will have for years to come!
Keep spreading the word about our amazing school and community! With an excellent academic program we can increase enrollment, allowing for greater resources and student opportunities.
Our commitment to teach the whole child develops academically strong students who embody the SJCS Throughlines. Our students are GROWING BELIEVERS who can articulate their faith; they are EFFECTIVE COMMUNICATORS who speak, write, and listen purposely and skillfully; and they are WISE DECISION-MAKERS who understand creation, fall, redemption, and restoration in their lives as well as in the world around them. Our students score well on MAP testing in part because they experience school as integrated people who connect learning to life in a safe, dynamic environment.
As we look to the future of these students, strong academics allow our graduates to bring their faith, integrity, skills, and work ethic to careers in a vast arena of fields where the kingdom of God is lived out each and every day. For example, our alumni enter the medical field (Class of 2015), law (Class of 2015), engineering (Class of 2017), and music (Class of 2013). SJCS graduates attend excellent colleges such as Santa Clara University (Class of 2016), UC Davis (Class of 2015), Biola (Class of 2001), and UCLA (Class 2017).
One SJCS graduate commented, "Of all the schools I attended, SJCS was the most important in my educational career" (Jessie M, Class of 1998).
A current middle school parent wrote this year, "SJCS has helped [my son] become a better person. He is a true testament to the grace, love, and power of positive encouragement to guide a student who was being kicked out of the public school system in First Grade to a child of God who looks for opportunities to help others. He is now a positive role model and earns A/B [grades] in a school that teaches at an advanced pace and level. Our family is very grateful to be a part of the SJCS family!"
Be encouraged, SJCS Community - God is doing great work here in our community through our staff and students.