Posts Tagged "library"
November 22, 2022
This blog is part of a new series for the 2022-23 school year to ILLUMINATE how God is at work at San Jose Christian School. Each post will SPOTLIGHT a specific grade level and/or program. This third post in the series is a SPOTLIGHT on literacy programs at SJCS and features interviews from: Nicole Nesdahl (Librarian) and Audra Tate (1st Grade Teacher).
Connecting students with books that interest them is what makes Librarians special, particularly to elementary-age kids. San Jose Christian School Librarian, Nicole Nesdahl, cherishes this opportunity in her role; "Young children are kind of ready to hear about everything, but also about God." She continued, adding that libraries are "special places" that provide a breadth and depth of resources children are interested in that a single home could not offer on its own.
Mrs. Nesdahl has been the Librarian at San Jose Christian School for seven years, and has been part of the SJCS community for more than twice as long. After touring the school when her son was in 1st Grade, what she admired most was the faith of the staff. "It was so evident and so clear that [faith] was just permeating everything, and it was so obvious compared with the other schools that we had visited."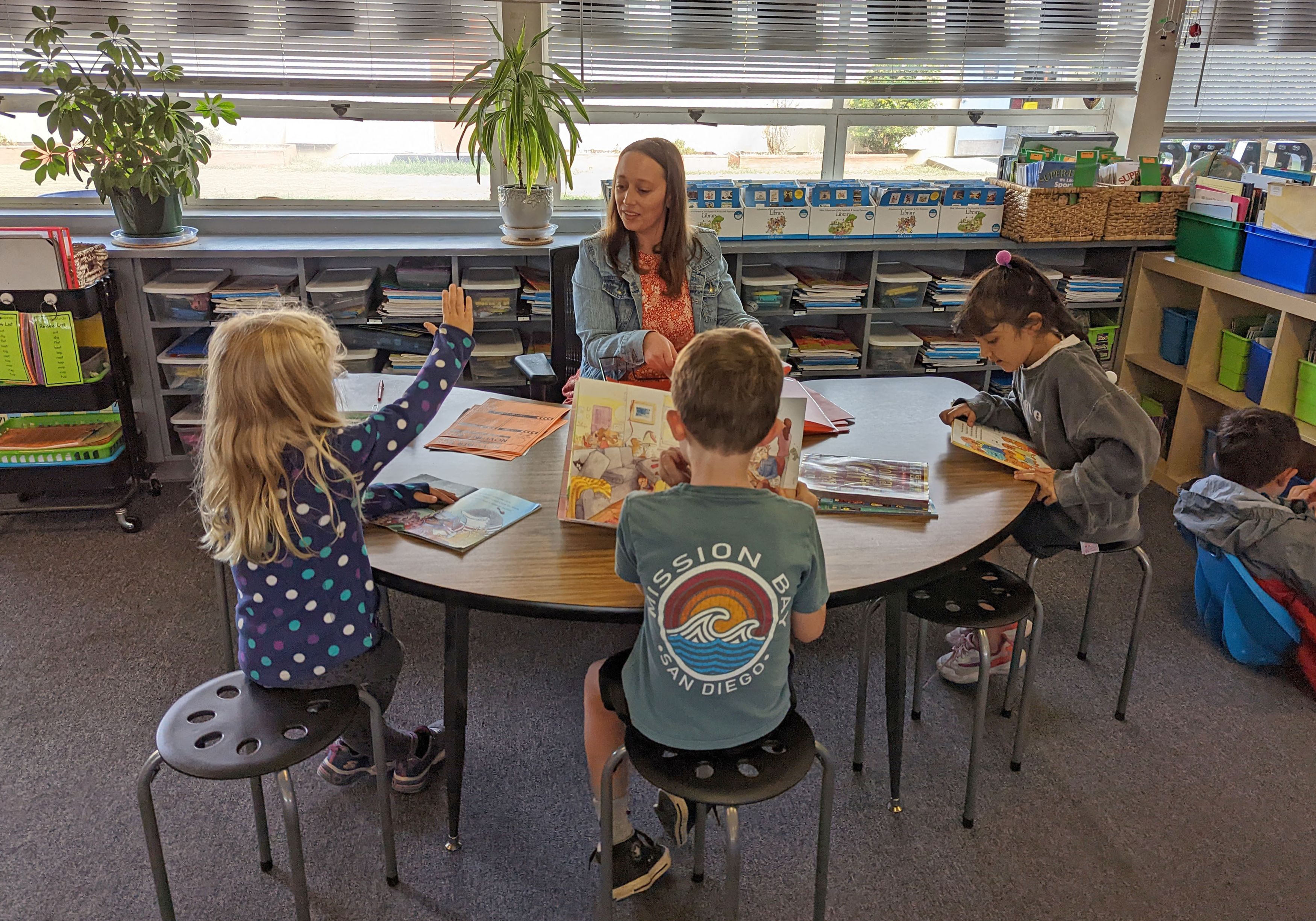 Audra Tate also started working at San Jose Christian seven years ago, for one year as a substitute teacher while finishing her credential program, and then as the 1st Grade teacher. Even as a substitute teacher, she felt "something different" at SJCS. Not only was she excited to teach a Bible lesson to her students, but she also experienced something special in the classrooms, the community at the school, and even in the students themselves.
"Everything here just felt so warm and inviting," she remarked. During the year she subbed here, Ms. Tate said that thinking about working at San Jose Christian full-time would fill her spirit up. "When I got the key and I walked into my classroom for the first time… I fell to my knees and praised God for bringing me where He wanted me to be, teaching little kids." Reflecting on that day now, she affirmed: "I felt like I was on God's path. I feel like I'm on God's path."
"Young children are kind of ready to hear about everything, but also about God."
Mrs. Nesdahl felt a similar pull to work at San Jose Christian. "I worked in public libraries for many years and I totally, I loved it, but I became increasingly aware over time that there were missed opportunities… opportunities that could be there to speak life into these kids." This was when she felt the Spirit nudging her to work with children from Christian families.
After seven years, she still enjoys being able to incorporate Biblical perspective into the stories she reads aloud and finds it fulfilling to specifically purchase books that will build up the library's faith section. "It is a unique opportunity," Mrs. Nesdahl explained, "because in a lot of schools you're not going to have that at all. And in public libraries, there might be some small faith sections, but it's not necessarily the Christian faith."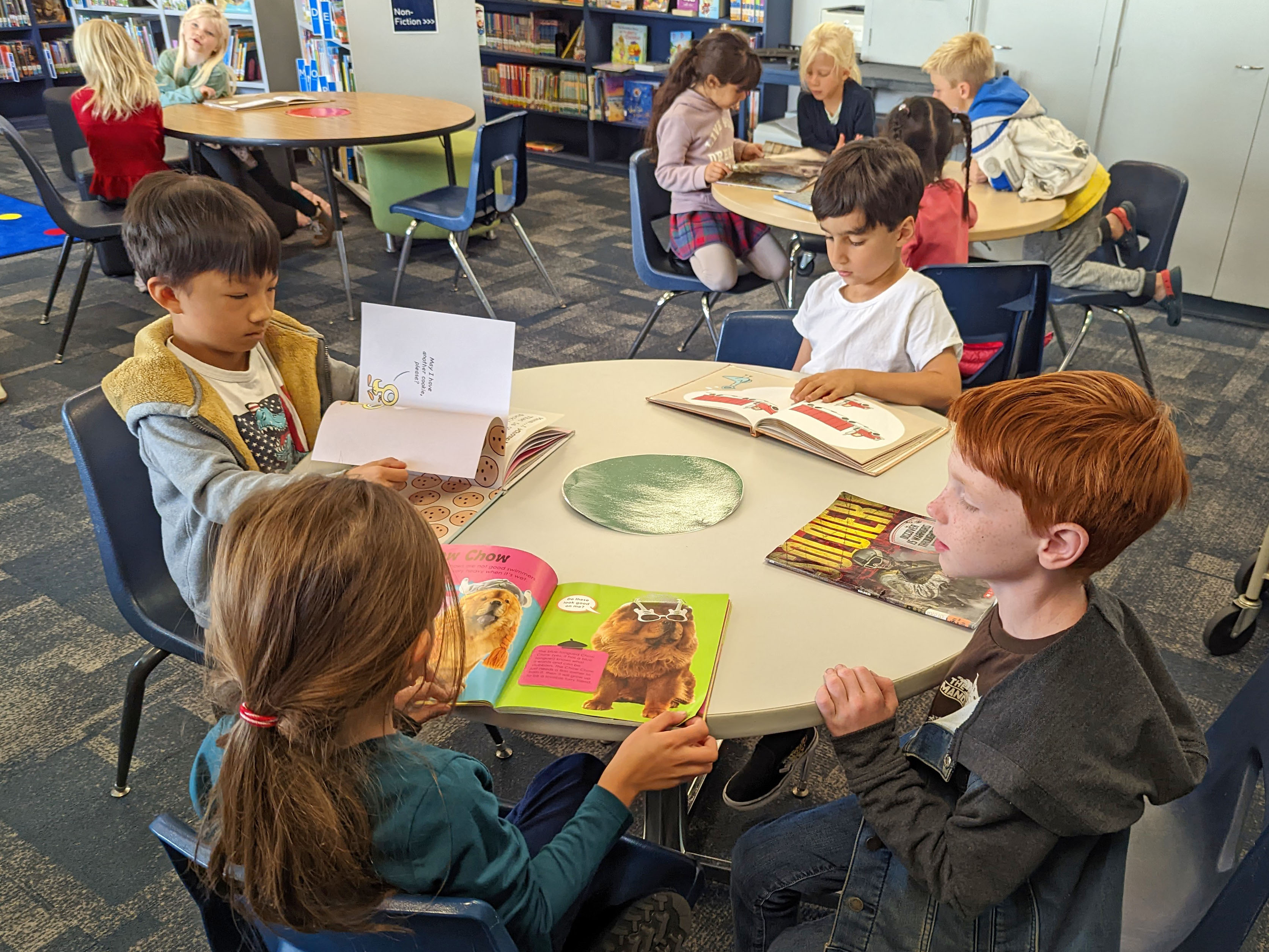 Providing these books that otherwise wouldn't be readily available to families is one thing that students love about going to the SJCS Library each week, and parents are pleased too. "It can be challenging for families to find these resources," Mrs. Nesdahl acknowledged, "so I feel like just providing [books about the Christian faith] is such an awesome responsibility and that adds to what this school can give."
Having a strong library program is not only providing the right books for students to read, however; it is also about building a trusting relationship with students and their families. Mrs. Nesdahl has a unique position at San Jose Christian because she gets to work with students in all grades from JK-8 across the years they are here. She loves connecting with students and learning about their interests, which also helps her with supporting their literacy development. "As the students and I grow in our relationship, they get to know and trust me, and so as I come alongside them, they know they can rely on me to recommend good books that will grow their literacy skills."
"Once we learn how to read, we're unstoppable, because everything in God's Word is so powerful and he wants us to know it and live it out."

Student interest is critical both for teaching reading and for supporting a life-long love for reading. It is also what makes reading fun and desirable. Ms. Tate believes that developing a love of reading means giving students "a book they can fall in love with." She said it starts with helping them find something that they're interested in and then"putting that in front of them, a lot of it in front of them and then asking them questions."
Ms. Tate is also mindful of student interest in her 1st Grade classroom when she creates opportunities for students to make personal connections. "I try to make real-world situations come alive, books come alive, characters come alive.. I try to make it a little more exciting."
One of the ways Ms. Tate brings stories to life in 1st Grade is through a grab bag activity. In this activity, she fills a bag with items representing a character in an upcoming story, and then students have the chance to touch the supplies and make predictions about this character. It's a hands-on activity that allows students to make a personal connection with a character before meeting them, and Ms. Tate observes that it gets students excited to read.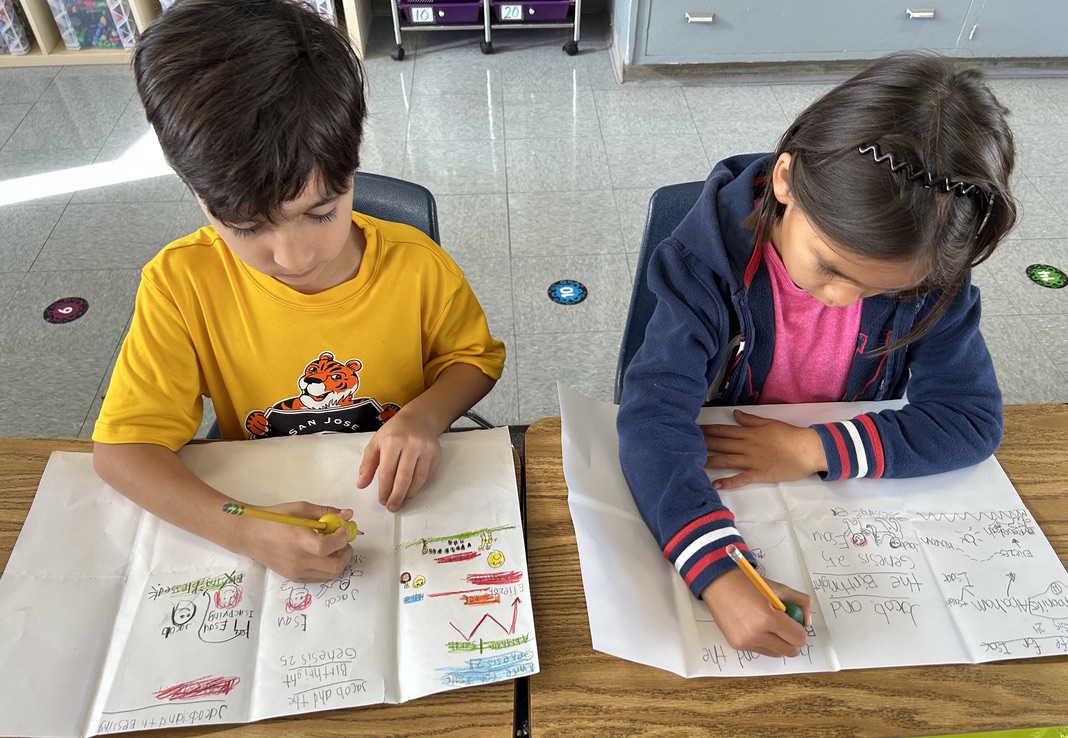 Another 1st Grade literacy activity that excites students is Bible story maps. Ms. Tate wanted to support reading comprehension in class by giving students something to do while they read Bible passages. After folding a large piece of construction paper into squares, students draw what they hear in the Bible story as the class reads it. "They love it," she said. "Then when they're all done, they have this huge map that is all about the story in the Bible we just studied, and they are so excited to share it with everybody."
Similarly, Mrs. Nesdahl described how she sees students internalize Bible stories in Library. After teaching students about the oral storytelling tradition, Mrs. Nesdahl shares how the Bible is part of this tradition and we are called as Christians to preserve and pass on the stories God has given us. Students get to practice this during Easter, when she uses Resurrection Eggs to tell the story of Jesus' power over sin and death. After presenting the Easter story in a variety of ways, the students are ready and confident to share the story themselves. "By the end of that week, man, they know it, and they don't need to read it. They can just tell you if they see [the eggs]… they just know from us going over it."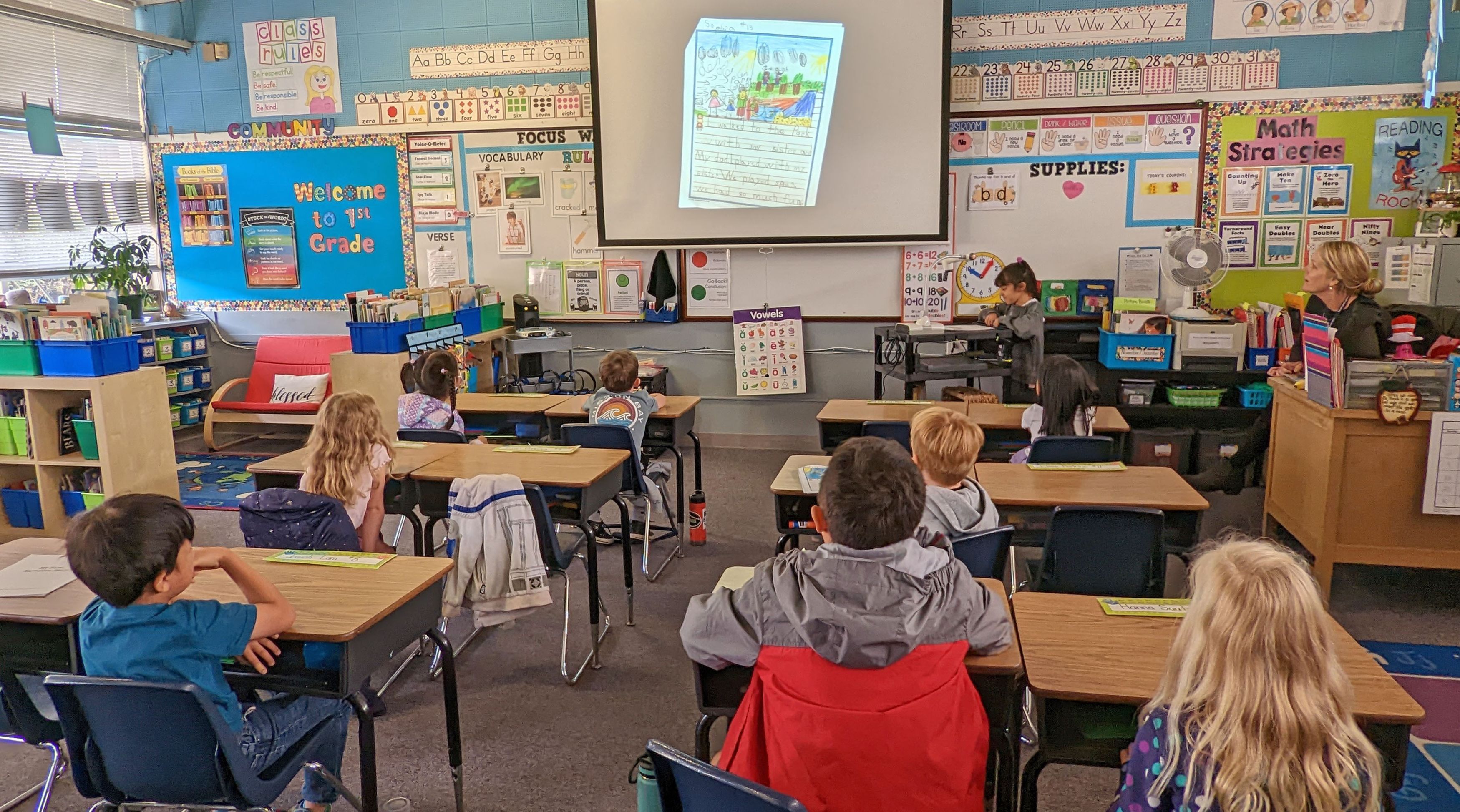 These literacy activities make stories memorable and meaningful, but Mrs. Nesdahl and Ms. Tate are also modeling for their students how to share the Gospel. By teaching students to follow God and to read simultaneously these teachers are preparing students to transform culture for Christ. Ms. Tate put it this way, "Just like we sit there and mouth how to make the proper long and short valve sound of 'a', we model the daily and long-term behaviors of a Christian."
Learning how to read is as empowering as it is world-changing. Ms. Tate tells her 1st graders that once they learn how to read they will be "unstoppable," because "everything in God's Word is so powerful and He wants us to know it and live it out."
"Just like we sit there and mouth how to make the proper long and short valve sound of 'a', we model the daily and long-term behaviors of a Christian."

Mrs. Nesdahl is also empowering students by creating roles like "library assistants" and "checkout assistants." During Library, students take a participatory role in checking out and recommending books to their peers. Even as young as 1st Grade, students will help their friends who have not found a book by suggesting titles and explaining why they would be a good choice. Mrs. Nesdahl has created a supportive environment where students trust and rely on her and each other, while also helping students grow more confident and independent.
"We have the five finger rule," Mrs. Nesdahl explained, "which has to do with turning the first page and every time you read a word that you don't know, you put up one finger and then another and another." This strategy helps students determine if a book will be too challenging or too easy for them. She encourages students to try books that have new words, but also builds their confidence by allowing them to choose what they read based on their comfort level. "And then as they grow older, they begin to know – either by length, by section, by AR level – what books are good for them."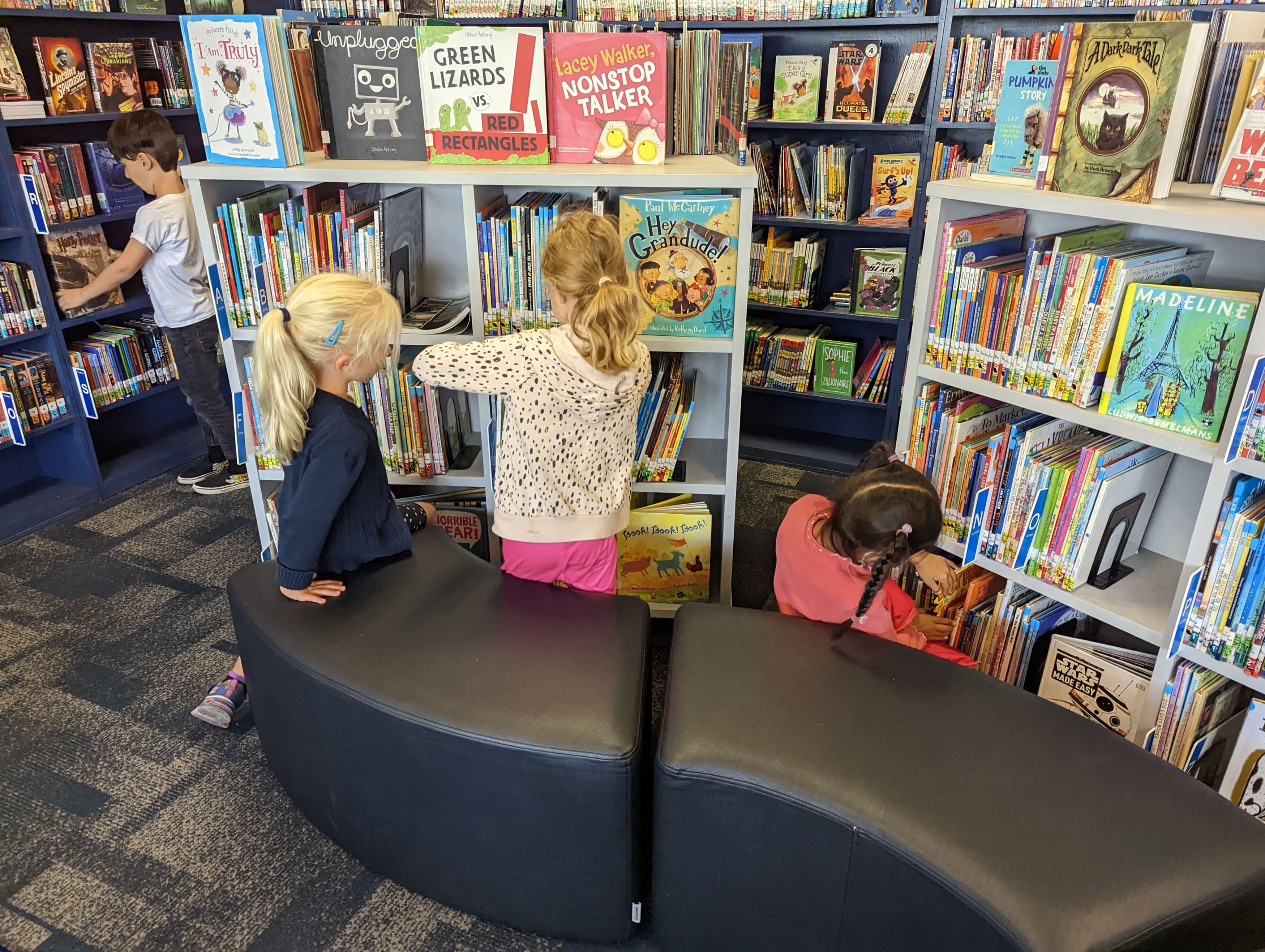 When students struggle to choose books themselves, or struggle to find a book that is appropriate for their reading level, they can find support in several places. For example, Mrs. Nesdahl described the benefit of offering graphic novels or pictorial books to students who have difficulty reading. "They might be concentrating so hard, their brain is not making pictures in their head because they're working so hard to read. And so, having that picture provides a little bit of brain relief, but keeps it moving and then they can continue on and then they build confidence as readers." For other students, there is support through technology such as the Accelerated Reader system, which adapts to student reading level, or audiobooks, which provide a second mode for interpreting the text.
"It benefits everyone when we have more learners and readers."

"It benefits everyone when we have more learners and readers," Mrs. Nesdahl remarked. Fortunately, fostering a community of strong readers is something San Jose Christian is able to do well because of our small class sizes, academic scaffolds, and outstanding staff. Family support is also key to developing a love for reading, because it is evident when students read at home or see their parents reading. "We have a strong community of readers," Mrs. Nesdahl noted, "I can tell the parents are educated and learners themselves."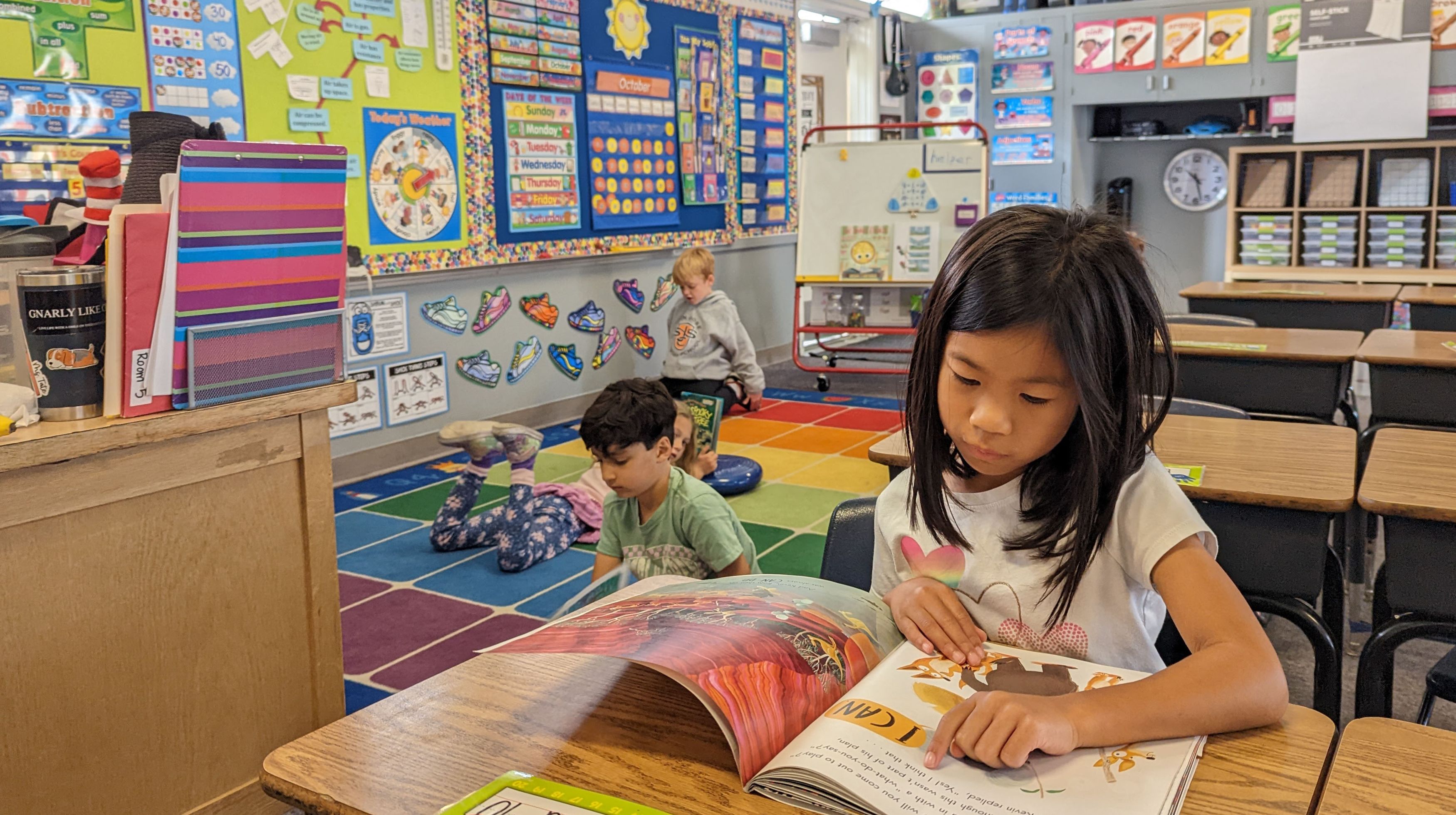 Ms. Tate recognized her students' excitement about reading recently when she asked them what was on their Christmas lists and noticed that many of the items they wanted were books. She surmised that since her 1st graders are learning how to read, it is new and exciting, so they want more books to consume. "It's like learning how to ride a bike. Then you want the bell, you want the helmet, you want everything, right? Our students are learning how to read and getting better at it and their confidence is growing."
Mrs. Nesdahl has a solution for parents looking to get more books in their children's hands this Christmas. The Scholastic Book Fair will be at San Jose Christian November 28 - December 1 in the Library from 8:00-9:00am and 2:45-5:00pm. We hope to see you there!
---
Rae Sterk is the Director of Community Development at San Jose Christian.
Nicole Nesdahl is the Librarian at San Jose Christian.
Audra Tate is the 1st Grade Teacher at San Jose Christian.
December 20, 2017
Let's celebrate the gift of babies at SJCS! Infant Center Lead Teacher, Tammy Reulman, glows as she talks about SJCS and the Infant Center. "We have the best job ever. Our teaching happens throughout the day as we change diapers, sing songs, play, and teach about God's love. Kids know more than you think they do! We focus on God as the Creator and the Golden Rule. Our program is amazing because of the teamwork of our staf. We really work together to give excellent care." Tammy and her team focus on Psalm 139, Proverbs 22:6, Matthew 28:18-19, Luke 2:30, and Matthew 19:14 to frame their work each day.
Charieah Kephart-Ford enjoys working with babies because each day is diferent. "You never know what adventure you will be on. It is so fun to watch them grow and teach them about the love of the Lord every day." Monette Dawson delights in watching babies develop into toddlers."It also gives my heart so much joy to see the sparkle in their eyes as we sing songs about God and Jesus. I love being able to share the word of God with the babies." Priscilla Ku admires the amazing mental, physical, and verbal growth of each child. "What amazes me even more is that God, the heavenly Creator, wonderfully and fearfully makes each child. The babies are a joy to be around every day." Melinda Sanchez is so thankful to be a part of the ICC Team. "Our room is a joyful, noisy, busy room with never a dull moment. Working at SJCS has been such a blessing in my life, and I am so grateful to have such a wonderful job where I can love and care for our littlest Tigers."
Thank you, Infant Center Team, for living God's love, peace, hope, and joy with our babies!
November 27, 2017
God created SJCS Librarian, Nicole Nesdahl, a connector. "I'm a connector. I love connecting students to books, each other, and God." Elementary library classes begin with meaningful rituals: a squirt of hand sanitizer, student-led prayer, and candle-lighting. "We light a candle as a symbol of God's presence. The light reminds us that God is with us and sets the tone for sharing our stories together." As Mrs. Nesdahl reads books to her students she connects their lives to the story. Questions like "Is there such a thing as good luck?" or "Who can explain what a lightning bug looks like?" give students a chance to get into the text while sharing their own experiences.
This year Mrs. Nesdahl initiated new library opportunities for students and
teachers. Many students entered the bookmark contest. Four winners (Joey, Elizabeth, Sofia S, and Lauren S) will have their Micah 6:8 bookmark creations published for SJCS library visitors to enjoy. Middle school students applied for a new library interns position. Nine participants now meet twice a month to train on library procedures and connect with each other over books. Mrs. Nesdahl chose 1 TImothy 4:12 as the library intern theme verse. "Do not let anyone look down on you because you are young, but set an example for the believers in speech, in conduct, in life, in love, and in purity." She sees the entire process of interviewing, working side by side, and growing in Christian community as part of the library's mission to form wise decision-makers and engaged citizens. Over the summer Mrs. Nesdahl and many volunteers automated over 4,000 titles to a new library book checkout app. In addition, Mrs. Nesdahl started library cart support for teachers where she gathers books on particular topics for teachers to use as classroom resources. Take a moment to stop in the library, meet Mrs. Nesdahl, and thank her for the many ways she is leading our school in a love for God, desire to learn, and commitment to serve.